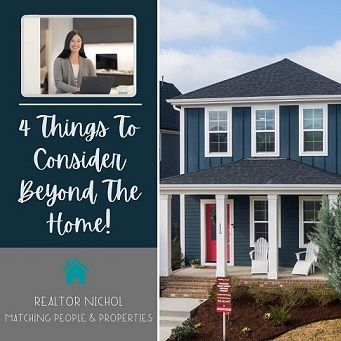 By now, with all of the websites, TV shows and social media focused on real estate, most buyers know that they need to do their due diligence. This, however, means more than touring the property multiple times, reviewing the seller's disclosure and hiring a home inspector and attorney. There are several important considerations beyond the actual house and lot to consider BEFORE you buy.
The Town 
Does the town fit your style and needs? Small/big, downtown, period character or modern, quiet/loud? 

What types of businesses, shops and services are available? 

What are the future development plans? Is there a master plan available to review? 

What type of trash/recycling programs are in place? 

What are recreational activities? 

Are there parks, playground, basketball courts, tennis courts, tracks, baseball/softball/soccer fields, trails, swimming areas? 

Are there dog trails, parks, runs? 

How are the parking and commuting options? 

How does the tax rate compare to other towns? 

When was the last tax assessment? 

How is the safety? Neighborhood watch? Is there a town fire department and EMS? Volunteer or paid? Are the police local or regional? How do crime statistics compare to other communities?
The Schools
What types of curricula are offered? 

What types of extracurricular activities are offered? 

What is the average class size?

What are the school rankings?

Is the school district regional? 

What is the school's operating budget?
The Environment
Where are the flood zones, if any? 

What/where are the building zones for commercial, single-family, etc. in relation to the purchase property? 

If there is vacant/raw land near the purchase property, who owns it and what is the zoning classification? 

Is this lot/town in a flight path? 

Air, soil and water quality? Has there been any recent testing and reports for the area? 

Are there protected wetlands? 

Is there noise pollution? 

Is this an area with septic tanks and wells or municipal water and public sewers? 
The Surrounding Area
Are shopping and dining venues nearby? 

Any county parks, dog parks? 

What are the local attractions? 

How close are highways, trains, airports and public transit? 

What types of county events and programs are available?

Where is the nearest hospital? 
This list serves as a general guide to buyers, who are usually hyper-focused on the actual house, as they should be. However, there might be some important items beyond the house that they will want to be informed about BEFORE they are under contract. Some resources to utilize in getting answers to these questions include: town websites, school websites, school principals, police stations, local Chamber of Commerce and county websites. 
Lastly, I always encourage my buyers to take a walk around the neighborhood where they are looking and/or the downtown area. Grab a bite, watch a school game or play, go to the library or sit in the park. This is the best way to get a feel for the town and the people who live there. Seeing and talking to the locals can help buyers learn more nuanced details about the towns where they're searching. And, of course, your trusted local agent will also be able to provide information as well. 
Happy Buying!!!